I have been watching movies before I could even speak and having grown up in India with the large dominance of Hindi movies in the country, it is inevitable to fall in love with bollywood. Over the past years, there's a definitely a shift from unrealistic slapstick comedy to content driven movies, particularly in the past two or three years but I do belive we have the most unique story-tellers in India because everything from how we deliver the narrative to the premise of the movie, it's completely different from a hollywood setup and I think that's sets Hindi movies apart from the rest. It's definetely been a terrible year for the business of movies and I think that is a reminder that the audience will not just accept anything that is offered to them, it has to deliver something memorable in that three hours or you're not going to be making a recovery.  There's definetley a void of great writers in Bollywood and the business will not work if the writers do not work.
Now they say Bollywood has disappointed in 2017 with films like Tubelight, Jagga Jasoos, When Harry Met Sejal or a Rangoon. I would say Bollywood has matured with films like Trapped, Hindi Medium, Bareily Ki Barfi, Shubh Mangal Savdhaan and Newton. For me, cinema has to be good which should entertain me despite having a Salman Khan or Rajkumar Rao. These were my favourites this year!
Best films of 2017:
JOLLY LLB 2:Jolly LLB 2 is the kind of film Hindi cinema used to make at a time when its primary activity was to tell a rousing tale, using star power to embellish it.

This sequel of Jolly LLB, infinitely superior to the first ofcourse with Akshay Kumar leading it this time, brings back the joys of watching a movie with a solid plot, a strong sense of time and place and rhythm, and a confidence in itself that has been missing from Bollywood. Yes, there a few dips, and some slips, but on the whole, this Akshay Kumar-starrer is a win.

https://youtu.be/q07SQFmL4rM – TRAILER
Newton is simply the most relevant film to have come out this year. An understated, clever, topical, black comedy with a heart about democracy, elections, our responsibilities as citizens and the power of conviction. Laugh out loud in places, poignant in others, and always honest.
Rajkumar Rao is stunning in the role of an honest election clerk and gives another ravishing performance. Pankaj Tripathi is excellent in the role of an army officer who continually tries to persuade Newton to abandon his duty for the sake of safety. Anjali Patil and Raghubhir Yadav are superlative in their respective roles.
trailer-https://www.youtube.com/watch?v=yU6zMPFd4UU
Raees

A gripping gangster saga with a contemporary spin, this Rahul Dholakia's film starred Shah Rukh Khan. The crux of the film is the power play and cat-and-mouse chase between criminal, Khan plays a ruthless bootlegger in prohibition-era Gujarat in the 1980s, and cop (played by Nawazuddin Siddiqui). Khan is on top of his game as an anti-establishment and a Robin Hood figure. It's a film that produced spectacular box-office returns — the highest-grossing film of 2017.
trailer-
Ayushmann Khurrana is one of the new breed of Indian male main men who aren't afraid of experimenting with the roles they play one bit. He's already played a sperm donor in his acclaimed debut, now he plays a to-be groom named Mudit, who suffers from erectile dysfunction and the ways, conventional and outlandish, in which his family, fiancee and his fiancee's family deal with the hurdle. It is an outright and at time ludicrous, but almost always on point satire on the views of our reserved yet nosey Indian society about the s-word. Bhoomi Pednekar doesn't have much work to do here, but she's graceful in her limited role and completes a lovely pair which we surely will keep seeing on screen. Solid work by the supporting is another plus for the film. It suffers from the age-old curse of a messy final third, but it is a must-watch for the adult viewers of our country for tackling a topic which could have very well been super awkward with relative relatable ease.
trailer-https://www.youtube.com/watch?v=g67IL4mbuFY
BAHUBALI 2: THE CONCLUSION
I am breaking a rule here, this is not a bollywood movie and I'm 100% sure Bollywood can never produce a movie of this magnitude but you can't talk about movies of 2017 and not mention Bahubali, this Telegu blockbuster stunned the nation with it's manmoth box office collection making it the highest grosser of all time.
The long-awaited sequel to Baahubali: The Beginning, one of the top-grossing Indian epic historical fantasy films of all-time, the conclusion picks up again with our hero Shivudu (Prabhas), as he comes to terms with his legacy and the responsibility placed on him by this knowledge. Shivudu's quest aims to find the answer to the question that's been plaguing fans of the franchise for years: why did Kattappa kill Baahubali?
Baahubali 2 is the pitch perfect follow up to 2015's Baahubali. While it doesn't have the same panoramic adventure of its predecessor, it does make up with grand scale and precise execution. This movie is worth the hype. Its worth wading through the crowds and sitting in a theatre seat for 3 hours. This film deserves the moniker of being India's biggest film. Epics don't come as glossy and detailed as this epic adventure.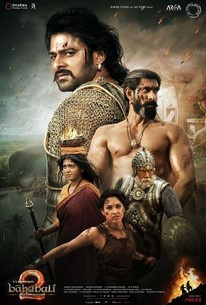 trailer-https://www.youtube.com/watch?v=sOEg_YZQsTI
let me know your favourites this year in the comments below
love,
praagna.
tweet me-@praagnaprasad
mail-praagnaprasad@gmail.com